GHS 10 mile open TTT R10/23 7th May 2016
http://mohsen.ir/?danilov=استراتيجية-الخيارات-الثنا؊ية-الاتحاد-الأوروؚي On Saturday 7th May at 2pm, Port Talbot Wheelers held a 10 mile TTT open event at Resolven. Event organiser was Alf Williams.
binary option trading guide
binary options signals service free The TT took place on the R10/23 course on the back road (B4242) with perfect conditions.
http://fisflug.is/?yrus=molina-trading-libero&6b4=c8
buy propecia online pharmacy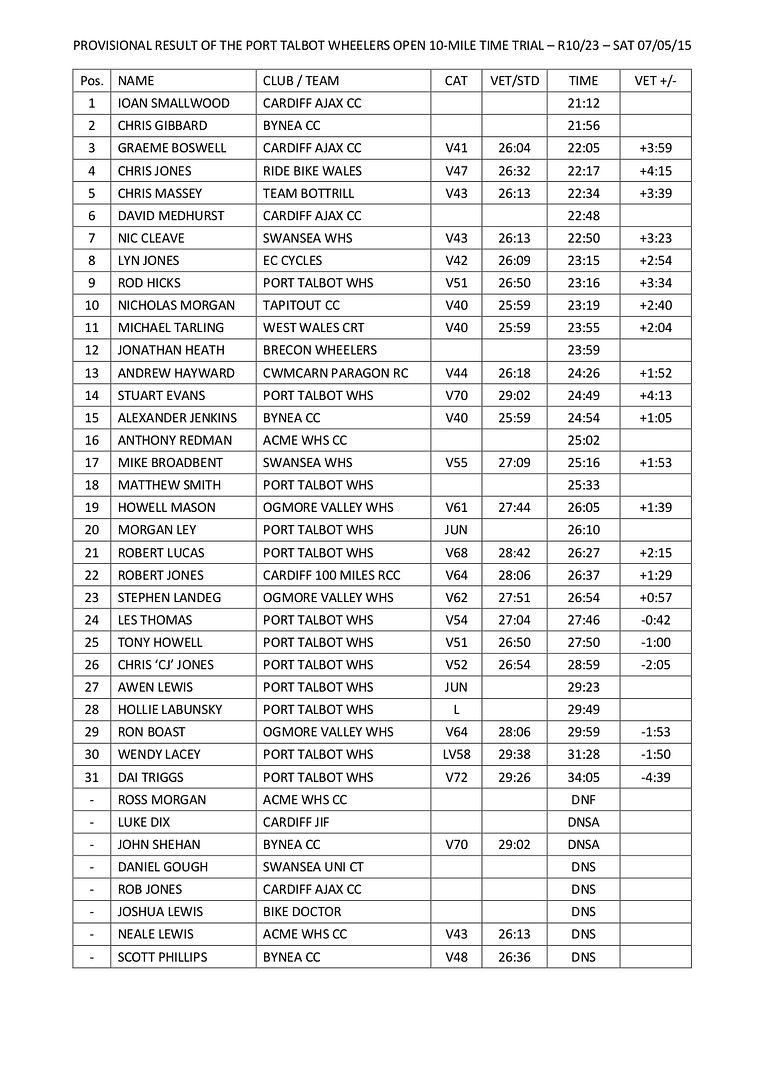 broker opzioni binarie 5 minuti The event was also the GHS 10 mile time trial in Resolven. This is the regional heat of the British schoolboy/girl time trial championships. Turnout was lower than we would have liked but those that did enter put in a great effort. Some incredible times. 25 minutes on the back road from a 12 year old!
enter Winners of the age awards go to the national GHS championship.
go This was also the club handicap 10. Results from the handicap are as follows.
| Name | Handicap | Time | Handicap time |
| --- | --- | --- | --- |
| Wendy Lacey | 00:10:15 | 31:28 | 21:13 |
| Dai Triggs | 00:12:34 | 34:05 | 21:31 |
| Awen Lewis | 00:07:05 | 29:23 | 22:18 |
| Robert Lucas | 00:03:32 | 26:27 | 22:55 |
| Matthew Smith | 00:02:23 | 25:33 | 23:10 |
| Morgan Ley | 00:03:00 | 26:10 | 23:10 |
| Stuart Evans | 00:01:35 | 24:49 | 23:14 |
| Rod Hicks | 00:00:00 | 23:16 | 23:16 |
| Tony Howell | 00:04:29 | 27:50 | 23:21 |
| Chris CJ Jones | 00:05:10 | 28:59 | 23:49 |
| Hollie Labunsky | 00:05:56 | 29:49 | 23:53 |
| Les Thomas | 00:02:54 | 27:46 | 24:52 |